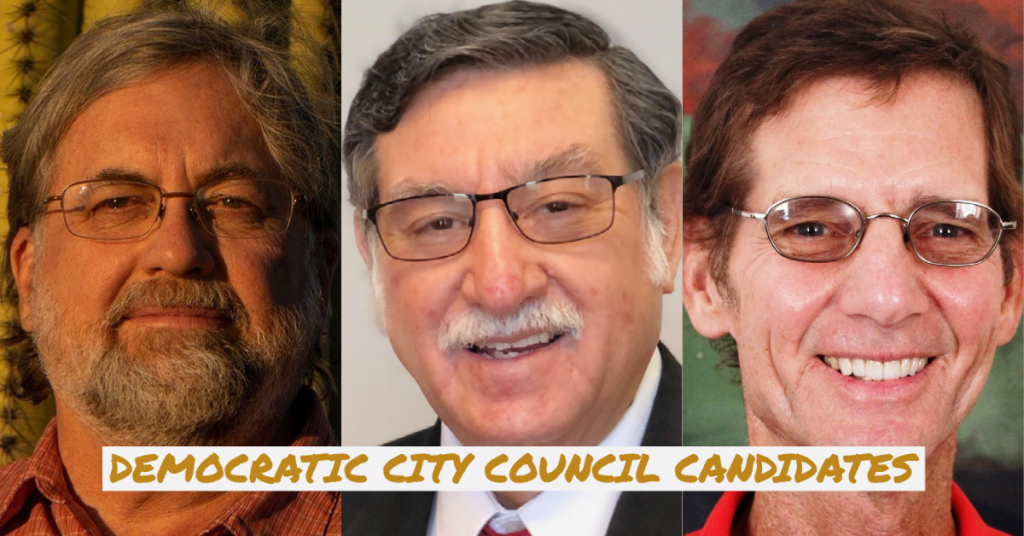 Democratic City Council Candidates
The Tanque Verde Democrats will be hosting our three Democratic candidates for Tucson City Council: Kevin Dahl for Ward 3, Richard Fimbres for Ward 5, and Steve Kozachik for Ward 6.
Dahl is a first time candidate and both Fimbres and Kozachik are incumbents.
We also will have information shared regarding the "Tucson Fight for $15" initiative that will be on the November 2021 City Election. We plan to have speakers from both sides of the issue to present and answer questions.
Ward 3 – Kevin Dahl
Kevin Dahl is a longtime leader in the conservation movement who has dedicated his career to protecting and improving the community around him.
Kevin was raised in Arizona and is the product of public schools. His father was a World War II veteran who became a law professor and his mother worked in a toy store. Both taught Kevin to pay attention to economic and social injustices, and imparted to him a love of the outdoors. During a nationwide rise in attention to environmental quality, he decided to take local action. Kevin joined an ecology club in high school and began a lifetime of work to combat climate change and help underserved communities.
Kevin led his student group to secure the first local recycling center in their home city and testified before Congress on a bill to expand Grand Canyon National Park at the age of 14.
Ward 5 – Richard Fimbres
Richard Fimbres is a lifelong resident of Ward 5 and Tucson, graduate of St. Ambrose and Tucson High Schools and a 32-year veteran of the Pima County Sheriff's Department. He is a Vietnam-era veteran of the United States Army having served as a military policeman, patrol and narcotics dog handler.
In 2002, Fimbres was appointed by Governor Janet Napoliano as Director of the Arizona Governor's Office of Highway Safety (GOHS) which is the focal point for highway safety issues in Arizona.
Richard Fimbres has served as a Governing Board Member for Pima County Community College, having been appointed in 1997, and being reelected to two, six-year terms in 1998 and 2004. In 2009, Richard was one of the first charter inductees into the Pima Community College Hall of Fame.
Fimbres is a graduate of Pima Community College, The University of Arizona, and Northern Arizona University. He is a proud father and has been married for 41 years to his dear wife Mary.
Ward 6 – Steve Kozachik
Steve is 67 years old and has been married to his wife Ann for 42 years. They have one daughter, Kimberly. All three are University of Arizona graduates. Steve has a bachelor's degree in Public Administration and a Masters degree in Higher Education Management.
Steve worked for the University of Arizona in the Department of Intercollegiate Athletics for 32 years. He was the Associate Director of Athletics for Facilities and Project Management. Prior to that he worked in Industrial Relations for ASARCO Mission Mine for ten years and ran a small business (Long John Silver's) for a year.
Steve's interests include all forms of athletics, primarily long distance running and biking. Travel has been a passion, including trips like the one to Africa where he help build a school for HIV/AIDS orphans and vulnerable children in Zambia.
The Tanque Verde Valley Democratic Club presents speakers of interest to Democratic voters on the second Saturday of every month.
To join the Tanque Verde Valley Democratic Club please email your name, address, telephone number and email address to Beth Isabelle (bethisabelle@gmail.com)